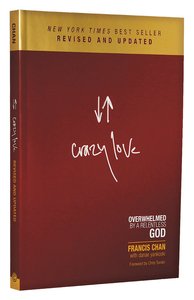 I have just finished reading / listening to Francis Chan's book Crazy Love. My wife had read it and recommended it to me. (Thanks Larissa!)
Now before I go on I want to explain read / listened to. My wife had a paper back copy which she read, and I bought the audio version. So I listened to Francis read and I followed along.
Now this book gave me lots of mixed emotions. At times I loved it. At other time I am not sure if I agreed with him. And other times I felt convicted. However, in the end I would say I loved it.
For me personally I would say this book effected me in four ways.
1. It reminded me – in the first few chapters it reminded me about God and myself. The first few chapters (1-3) Stop Praying, You might not finish this chapter and Crazy love reminded me of an amazing God who loves me and holds my life and eternity in His hands. It reminded me that my life is not just about me, but about God and my neighbour.
2. It convicted me – the next chapters (4-7) looked at a profile of the lukewarm and offering leftovers to God and more. This had lots of Scripture that really hit the bone. We all have lukewarm areas in our lives and this section pinpointed some for me. It finished with a call to remember our best life will come later after this life.
3. It inspired me – chapters 8 and 9 looked at profiles of people who were obsessed with God and it shared stories of real life people who gave God their all. The stories of famous and not so famous people inspired to live a sold out life for God. I was in tears at their stories and commitment to God and their obedience to the call on their lives.
4. It left me wondering – the final chapter The Crux of the Matter left me wondering what to do next. It reminded me afresh that we all have to give account to God for our lives, including me! I will stand before God one day and let Him know what I did with my knowledge of Jesus. Did I love God with all of my heart? Did I love my neighbour? Did I make disciples? Did I help the poor? How did I spend my time?
For me, this book is a call to action. It is a call to make sure I am living the life God created me for. It is a call to throw off all the shackles and worldly ways and wholeheartedly follow my Lord and Saviour.
I would encourage you to read or listen to this book. But a word of caution – don't do it if you don't want to be reminded of God's great love, be convicted of lukewarm areas in your life, be inspired to greater things or challenged to live life in greater service to God.
You can find it here on Koorong if you are interested.
God Bless,
Dave